Morning Musume. '17 Spring Concert Tour ~THE INSPIRATION!~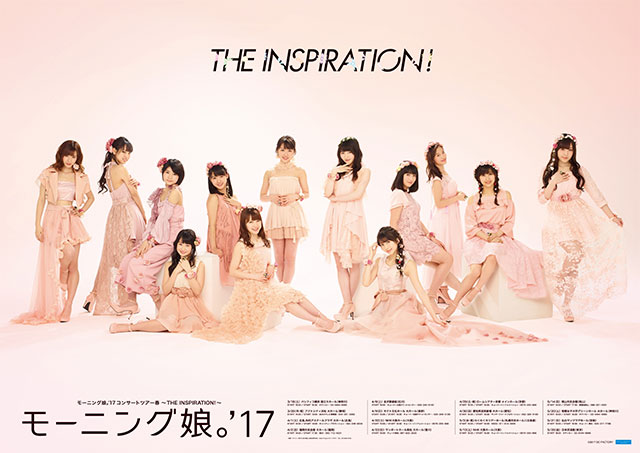 Concert runs from 3/18 - 5/26
Ends at Budokan
Setlist [First Day / *Subject to Changes]
VTR
1.BRAND NEW MORNING (12-nin)
2.Medley (13-nin) :
One•Two•Three (Updated)
Souda! We're ALIVE + Help me!! (Remix)
Ren'ai Hunter + Ren'ai Revolution 21 (Remix)
3.SONGS
4.Sou ja nai
5.Ai no Gundan
MC - introduction
6.Watashi no nanni mo Wakacchanai
7.Sexy Cat no Enzetsu
8.Tokyo to Iu Katasumi
MC
*9. Silver no Udedokei / Fukumura, Yokoyama, rap by Ikuta, Kaga / Give me Love - 10th Gen, 13th Gen
10.Joshi Kashimashi Monogatari '17 version
11.Loving you forever
MC - "THE INSPIRATION!" corner
MC - Morning Musume. 20th anniversary
12.Morning Coffee
13.Medley :
HOW DO YOU LIKE JAPAN? ~Nihon wa Donna Kanji Dekka?~
TOP!
Wakuteka Take a chance
Ikimasshoi!
Moonlight night ~Tsukiyo no Ban da yo~ (with Kudo x Ikuta dance battle)
What is LOVE?
MC - new unreleased song Seishun Say A-HA (青春Say A-HA) Written and Arranged by Tsunku and Okubo Kaoru
14.Seishun Say A-HA
15.Kimi no Kawari wa Iyashinai
16.Wagamama Kinomama Ai no Joke
MC
17.Inspiration!
ENCORE
18.Jealousy Jealousy
MC
19.Bravo! (13-nin)