Download this week's Yorosen at Hello!Online:
[H!F] Yorosen! - Week 15 (Jan. 19 - 23) (XviD)
[H!F] Yorosen! - Week 15 (Jan. 19 - 23) (H264)
Thanks, as always, to the sultans of subtitling over at Hello!Fansubs. If you are looking for streaming videos, Veoh and even YouTube for the more recent episodes are your best bets.
This week's Yorosen episodes are a continuation of last week's topic of pets (mainly dogs, a visit to a cat cafe, and Satan's rodent in episode #069) with Aika as teacher. And in keeping with the tradion of horrible, mediocre television when you combine Morning Musume and dogs, last week episodes were dreadful and reach a level of boredom I call eye-melting with a single, lame running gag. This week, thankfully, Junjun is here to ease the pain.
Episode #072
This week episodes focus on the overpriced and needless goods you can buy for pets including instant udon noodles for your dog. And like all pet food products, you probably wonder how they taste but never had the nerve to try for yourself.
Junjun takes one for Team Human.
And who couldn't resist a flavored pet drink called Pet Sweat?
Junjun agrees with the taste; Risa seems to have a different opinion.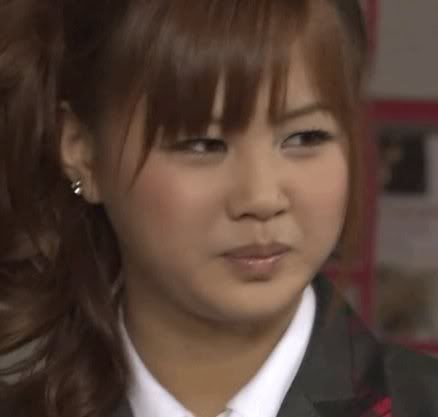 Episode #073
The pet indulgences don't end there. Aika presents a brand of beer specifically for dogs. I hate to imagine what it would taste like given dogs' preference to their own testicles.
This brand is marketed in the United States as "Miller High Life."
There's even boxed lunches for your pets and gift baskets full of all sorts of goodies. Junjun takes a sampling.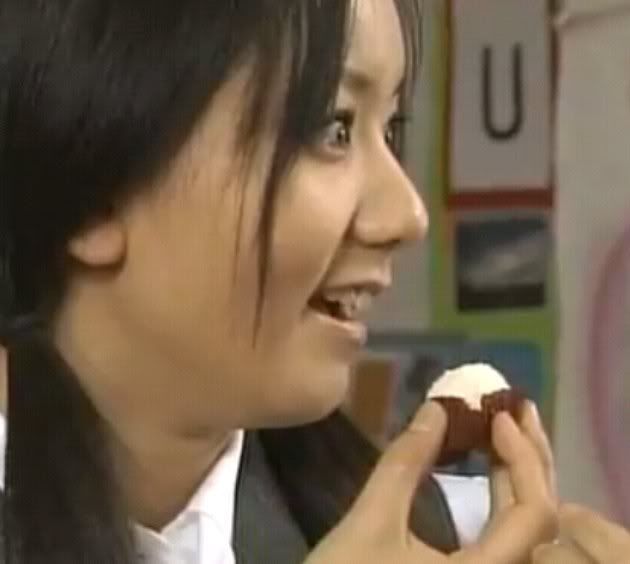 Episode #074
And we haven't reached the depths people are willing to spoil their pets. Aika whips out a desinger carry-all bag for dogs worth 79,800 yen (that's nearly $900 U.S.!), sparkly collars and leads, a tiara for your dog, and a doggie dress for 10,780 yen ($120). And then Risa scratches her nose for several seconds.
There are also dog massages, dog nail art which looks as gaudy as it does on people, and, most ridiculous of all, oxygen chambers for your napping dog. These dogs live better than I do.
Episode #075
Aika brings out menu items from the cafe that makes dishes for dogs with the counterparts that people eat for a taste comparison. Junjun rises to the challenge.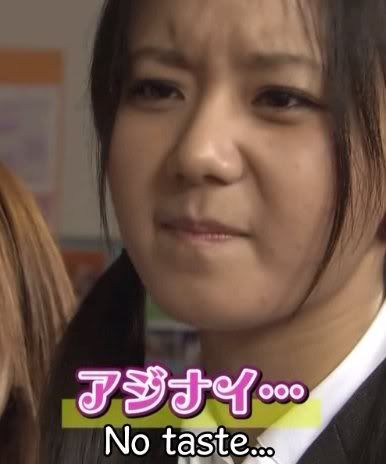 And since she's been such a trooper,
Junjun
Sayumi is given a bite of the human food to test.
We say farewell to the pets topic with Erina sharing what she would name a dog if she had one of her own.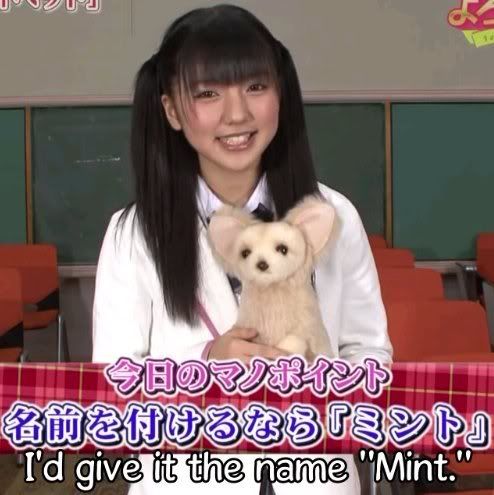 And good riddance to "Pets."
Episode #075
A fresh topic and a fresh teacher!
It's Linlin in a very fetching cheongsam.
And her topic, which required hours of debate among the production staff, is China. Specifcally, she talks about Japanese things that are popular in China. Food like ramen and oden and are discussed, but more interesting is Japanese animation. Here's that demon rat from last week again. (Note: Check out Linlin's air watch siren impersonation at the two minute mark of the episode.)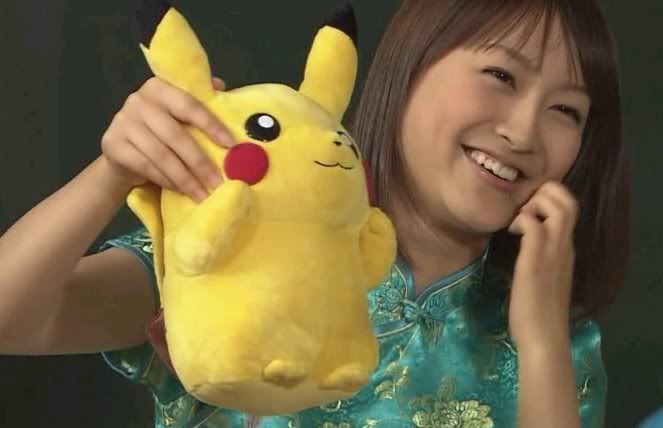 Dragonball is also popular and, with Linlin's guidance, the class participates in the Chinese version of the Kamehameha attack.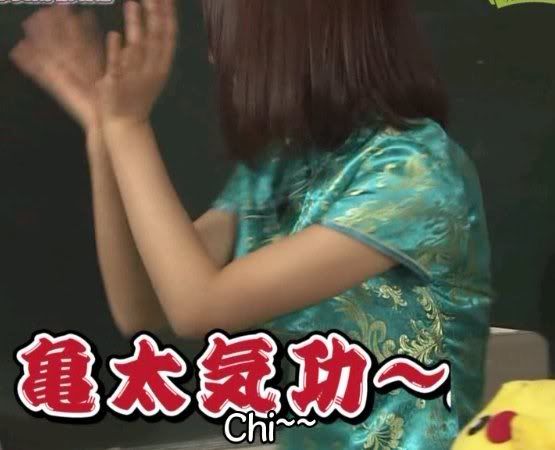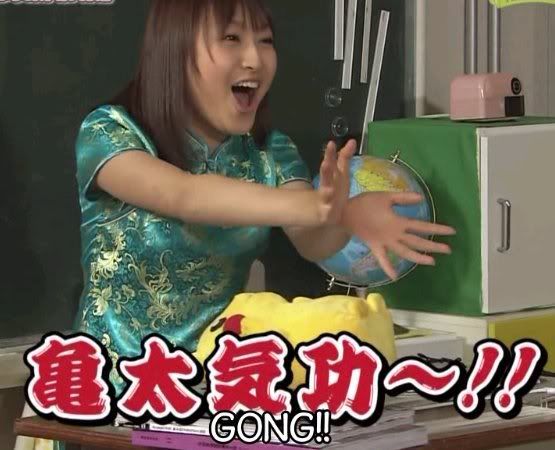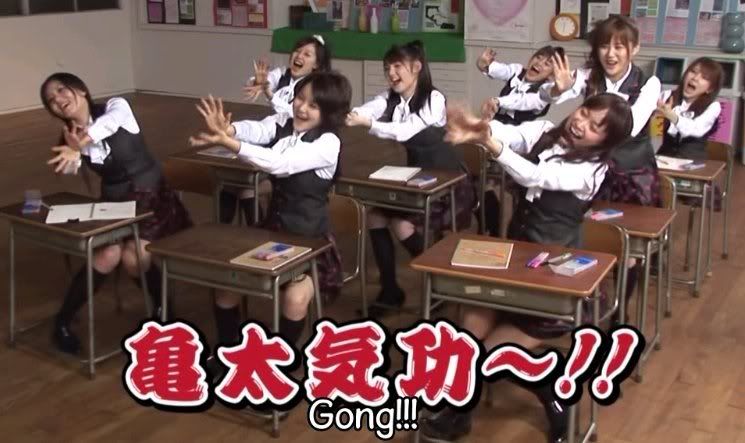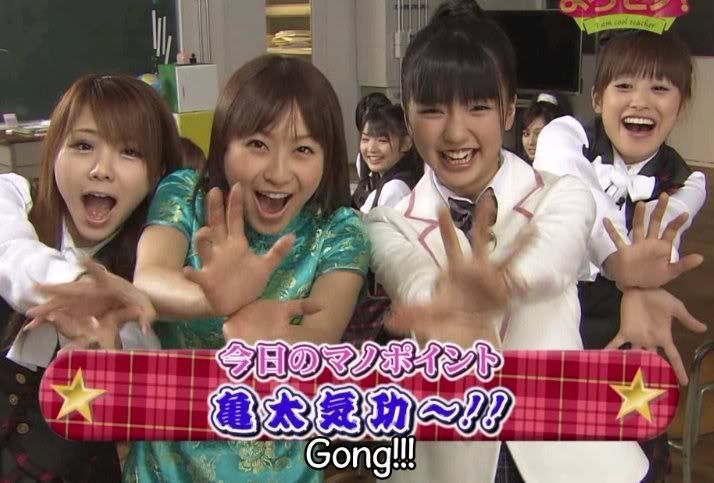 See you next week!