This is actually 2 months ahead of schedule. Awards of this nature don't come out till November, but I was being a productive little Q so you get them early. This actually took me a few times to post since my computer crashed twice. Warm weather is not kind. Anyway, I hope you enjoy. The comments aren't as witty this year, perhaps I'm losing my touch. If you would like to help out in anyway for the 2011 MM-BBS awards, feel free to drop me a PM.
Anyway, sit back, relax and enjoy the show~
The 6th Annual MM-BB awards are sponsored by the fine makers of Orange Soda, Tsunku's Man Symbol, the Crazy folks at Tumblr and the Letter Q.
**Awards are done through nomination and polling. Results may vary in other states, boards and countries. The winners do not reflect the global population, but it damn well should.
What is H!P without dancing? Despite the fact that C-ute owns the dance floor, Morning Musume out danced them with their opening number for their Rival Survival dance tour. C-ute will just have to try harder for 2011 to get your vote, and may succeed as newbie members of Morning Musume can't touch seasoned vets like C-ute. Or will Berryz and S/mileage make an appearance next year instead?
Morning Musume Opening Rival Survial Dance
C-ute's Chou Uranaito dance medley
C-ute - Dance de Bakoon!
Their first full year as formally debuted members of Hello!Project and the musical community. Ogawa won are hearts while Wada made us cringe.
With the addition of the submembers will the original members reign triumphant? Or will Ogawa's graduation give her a pity vote for 2011?
Ogawa Saki
Fukuda Kanon
Maeda Yuuka
Wada Ayaka
Photobooks are becoming common place in the H!P world, in the beginning it started with a trickle and then it turned into a full on Photobook fest.
Chisato pulled a victory over her elder Musume. Despite Eri's efforts to saturate the market with her pretty looks, she lost to the C-ute upstart.
Okai Chisato - Chisato
Kamei Eri - THANKS
Michishige Sayumi - La
Eri would have the last laugh as her 6th gen Memorial photobook with Sayumi and the now photobook reclusive Reina topped the Misc. Photobook votes. The rest really aren't even worth mentioning. Unless you like a photo book full of Berryz and a photo book full of front girls.
Kamei Eri, Michishige Sayumi, Tanaka Reina - Hello Hello! ~Memories~
Berryz Kobo - Alo Hello! Berryz Kobo Photobook ~Nijiiro Berryz~
Tsugunaga Momoko,Yajima Maimi,Mano Erina,Sugaya Risako, and Suzuki Airi - Hello! Project BEST SHOT!!
Concerts are the key part to H!P's continued sucesse, without them I doubt there would be a H!P to like.
Since their album and single sales suck. Once again Morning Musume pulls a double victory over C-ute.
Morning Musume Concert Tour 2010 Aki ~Rival Survival~
°C-ute Concert Tour 2010 Natsu Aki ~Dance Special!! "Chou Uranaito!!"~
Morning Musume Concert Tour 2010 Haru ~Pikappika!~
You could call them Blandz Koubou for the lack of activity from this group. Aside from their anime tie ins they didn't do much else.
I guess they were teasing us by saving their domination for 2011 and their 7th anniversary.
The tallest one, Yurina made a big impact on us, probably because she's so awkward and sticks out like a sore thumb, but we love her for it.
Kumai Yurina
Shimizu Saki
Sudo Maasa
Tsugunaga Momoko
Tokunaga Chinami
Natsuyaki Miyabi
Sugaya Risako
Blogs stormed into being in 2010 and it was a whirlwind of excitement as we turned into the creepy stalker and looked into the lives of our favorite idols.
Sayumi pulled a no contest as she outshined the competition with her cute whit and charming pictures.
Michishige Sayumi Official Blog
Non Piece : Tsuji Nozomi Official Blog
I am Ai : Takahashi AI Official Blog
Tsunku, the poor man works himself far to thin, I think he must have ADD. It's a wonder he's had time to procreate.
Anyway, these were his top accomplishments as voted by you.
Ogawa Mana's 1st Solo Album, Teenage Blues
THE Possible - Watashi no Miryoku / LOVE LOVE Paradise
Tsunku's 1st single in 11 years, Tsubasa
C-ute lost a few of their members in 2009, but they weren't going to lay down and call it quits.
Chisato proved herself a worthy idol by pushing herself out their and into the hearts of millions by dancing her way into our hearts.
The rest of the group tell into line accordingly, except probably Airi who doesn't like to be outshined by anyone. She'll just have to try harder next year.
Okai Chisato
Nakajima Saki
Suzuki Airi
Yajima Maimi
Hagiwara Mai
Shock and Awe are a daily occurrence in the H!P world. Drama is what they serve and without it, why be a fan?
We crave it and good or bad it always keeps us talking. Morning Musume's early 2010 graduation announcement was a shock to fans, as was Chisato's world domination on Youtube.
The loss of Maki's mother was also felt by the fans as Maki's life has been nothing BUT drama.
Triple graduation from Morning Musume
Chisato World Domination
The suddent death of Maki's Mom
Morning Musume released not one but two original albums this year in part due to the graduation
of three of their team and the addition of the 9th gen it would have been a big ball of awkward.
Buono's last album under Pony Canyon came in 2nd but couldn't overpower the Musume.
Morning Musume : 10 MY ME
Buono! : We are Buono!
Morning Musume : Fantasy! Juuichi
You may leave H!P, but we fans will never forget you. Despite the fact she's got two kids and a husband, Tsuji still remains relevant to our interests.
I'm sure her children will be embarrassed for her once they hit their teens.
Unfortunately Melon Kinebi's disbandment ruined a perfectly good W reunion as Kago's Jazz debut came in 3rd.
Tsuji Nozomi doing Everything!
Melon Kinebi's Final Album and Concert
Kago does Jazz
H!P covers have always been laughable, back in the day probably not as much but now, it's more apparent that sometimes they aren't even trying.
Of course some real gems slip through the UFA art department and these were your top picks.
C-ute Dance de Bakoon! Limited B
Maimi Yajima Fix no E Solo DVD
Muten Musume Appare Kaiten Zushi! Regular Edition
You voted, and Linlin is pleased that you'll miss her epic voice.
Not use to being dead last in anything, Risa is not so forgiving and consider she's the future leader, you better watch her try and make her move for world domination.
But considering Morning Musume's 2011 list of members is going to be double for the next award's session, I doubt she'll break top three at least. But you could always prove the announcer wrong. (But I doubt it.)
LinLin
Michishige Sayumi
Kamei Eri
JunJun
Takahashi Ai
Tanaka Reina
Mitsui Aika
Niigaki Risa
Costumes are an essential part of the H!P wardrobe, mostly they are laughable but sometimes they get it right.
The military look was very in during 2010, and Morning Musume jumped on board with their homage to the look.
Buono, despite their silent efforts in 2010, pulled in a double win with their epic Buono dresses and Momoko telling us how she really feels about us.
Bitch, you crazy little ball of win!
Morning Musume Go Military!
Buono do Buono
Momoko's thinks you're a bitch!
It's always easy to blame Tsunku for UFA's shortcomings.
In this case it really wasn't his fault as Buono were in the midst of changing labels, Junjun and Linlin's visa's ran out and Eri had a skin disease.
Junjun and Linlin getting shafted, again.
Triple Musume Graduation
Buono only getting 1 single
Despite their best efforts, C-ute just couldn't pull a win over the triple graduation single that really wasn't.
S/mileage made their first bid for world domination with their debut single Yumemiru Fifteen, but the c/w's for both groups weren't enough to top Lullaby Game.
Morning Musume : Onna to Otoko no Lullaby Game
C-ute : Dance de Bakoon!
S/mileage : Yumemiru Fifteen
The H!P girls all released about four PVs each, all in various stages of quality.
Berryz pulled through with a win for providing a PV that included not just outdoor activity and a set, but also Chinami trying desperately not to slam into the bookcase during her dance shots.
And this did it all with only one outfit, AMAZING! (Now if only the announcer could have found a better PV shot.)
Berryz Koubou : Tomodachi wa Tomodachi Nanda!
Morning Musume : Onna to Otoko Lullaby Game
Oha Girl Maple with S/mileage : My School March
Songs, there are a lot of them, it's a wonder Tsunku ever sleeps the amount of songs that are produced yearly by him.
Though the quality has diminished over time, there are still a few gems that pop up now and then.
Morning Musume's title album tracks are always a big draw for people and this is know exception.
So grab your bunny ears and lets go have some electroconvulsive therapy together!
Morning Musume: Moonlight night ~Tsukiyo no Ban da yo~
Morning Musume : Namidacchi
S/mileage : Yumemiru Fifteen
Member of the year, they worm their ways into our heart and prove that they aren't just a pretty face.
Being in a group with two front girls, Chisato proved that you need hard work and determination if you want to be noticed.
The outgoing graduates were not pleased with this turn of events, but it couldn't be helped.
Though through a shocking turn of events Eri out voted LinLin who had won Morning Musume member of the year.
Okai Chisato
Kamei Eri
LinLin
It's the award of the year, everyone wants it and only one can win it. Despite not winning a single award in anything else,
S/mileage pulled a stunning upset over their elder group Morning Musume who were poised to win the coveted spot having won numerous awards for 2010.
Better luck next year girls (With your 20 new members or something close to that.)
S/mileage
Morning Musume
Berryz Koubou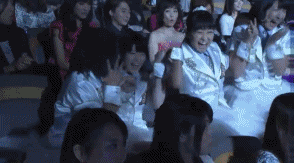 Hope you enjoyed the awards. Maybe next time we can have a little more activity in the nomination and polling threads.
Yayhoo~ See you in 2012 for the 2011 award nominations.
- PQ out!