The Stardust Promotion agency has a large stable of girls aged 8-18 in their
Section 3
that they call "3B junior" (I think the idea is that they're all in the same grade and class--Year 3, Class B--but that means some of these girls have been held back, and some are really smart!) A lot of these 54 girls are probably just training to be regular talent, but some seem to be starting to release idol music.
Momoiro Clover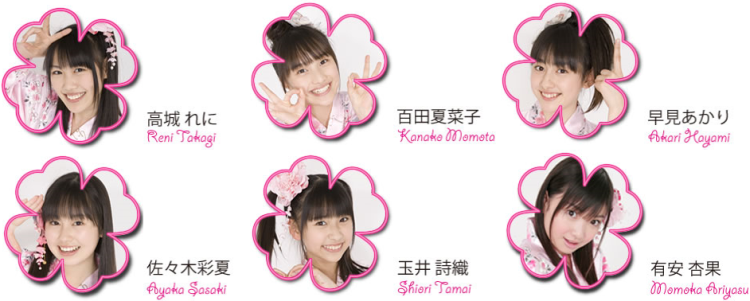 Momoiro Clover
(the first time I saw their katakana, I read it as 'Momoiro Crowbar". Yes, I'm an idiot) released their debut single last week called "Momoiro Punch". You can see the PV
here
or on this
youtube link
I just found. They wear yukata and the song incorporates sorta traditional Japanese instrumentation.
The girls range from 13-16; and, although they just released their debut, they've been around for over a year performing "street lives" and other shows with 3-B Jr girls. They have more songs than just the three on their new single, and they've been around so long that they even have five former members already. One was Takai Tsukina who went on to SKE48 and will now be quitting that as well. Two of the former members were moved to another Section 3 group,
creamy parfait
which was formed at the very end of 2008. Apparently creamy parfait has 2 singles, but I can't really tell that they were major releases. I think
their first single
, at least, was for some anime.
Anyway, here's an online mix of Momoiro Clover's songs:
http://8tracks.com/d...lover-catalogue
Those songs include their recent single and its b-sides.
Check out
this mix
for other 3-B Jr. offerings, and
this youtube link
shows them all performing at some sort of show.